Keep Your Pearly Whites White
Prevent tooth discoloration with these tips.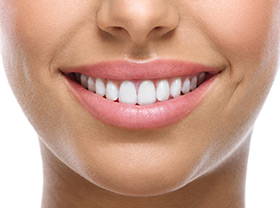 Your smile is often the first thing people notice about you. Wouldn't it be nice if your smile was always clean and bright? Even if you've tried whitening treatments in the past, the whitening can start to fade in just a few weeks, revealing color far from pearly white.
Besides brushing your teeth twice a day, brushing your tongue, and flossing, here are a few tips to brighten and whiten your smile to give the best first impression.
Try At-Home Treatments
Don't want to pay the dentist's fees for teeth whitening? Try do-it-yourself methods. If you have crowns, bridges, veneers, and fillings, be aware that whitening products may whiten your natural teeth but leave your worked-on teeth their original color.
At any drugstore you'll find shelves devoted to teeth whitening. You can start with simple whitening toothpaste, which contains chemicals and abrasives that help remove surface stains. Whitening strips will provide additional results. Easy to use, these strips are thin strips of paper covered with a peroxide gel. Just press the strips against your teeth, leave them there for a few minutes each day, and you should be able to tell a difference in your tooth color in just a few days. The whitening effects can last for a year.
You may also want to try an at-home tooth-whitening kit, an even more effective method that uses a gel made with carbamide peroxide to eliminate both surface and deep tooth stains as well as lighten your natural tooth color. Some kits direct you to brush the gel onto your teeth for a certain amount of time each day. Other kits use a tray filled with the gel that you press against your teeth and leave in place for half an hour each day for at least a week.
Eating for White
The foods and drinks that come in contact with your teeth can affect your teeth's appearance. Eating foods like apples, raw carrots, celery, and nuts stimulates the production of saliva, which helps to keep your teeth clean. These types of foods also work to remove stains and reduce plaque buildup.
Keep this rule in mind for foods and drinks: if it can stain your clothes or carpet, it can stain your teeth. Tooth discoloration happens slowly but becomes more noticeable as you age. Wine, coffee, and dark-colored juices, teas, and sodas are common causes of stained teeth as are deep-colored fruits and veggies (blackberries, blueberries, and beets), marinara sauce, and soy sauce. Frequent consumption of citrus fruits, lemonade, and energy drinks wear away tooth enamel, leaving teeth more susceptible to stains.
Thankfully, you don't have to let a drink's stain-causing ability stop you from enjoying it. Bypass your teeth by drinking out of a straw, don't sit and sip for hours on end, rinse your mouth out with water when finished drinking, or brush your teeth when you're done eating or drinking.
Quit Smoking
Another reason to quit smoking: it stains your teeth worse than just about anything else. The brown stains from tobacco aren't just on the surface. Smoking stains soak into tooth enamel, making it nearly impossible to remove the stains through regular dental hygiene efforts. The longer you smoke, the deeper the stains and the harder they are to remove.
Check Your Medication
Unfortunately, a side effect of many drugs (including certain antibacterial mouthwashes, antihistamines, blood pressure medications, tetracycline in small children, and antipsychotic drugs) is stained teeth. Iron supplements and fluoride can also discolor teeth. Talk with your dentist about procedures to protect your teeth from this negative side effect.