Non-Stop Go, Go, Go
Are your kids overscheduled?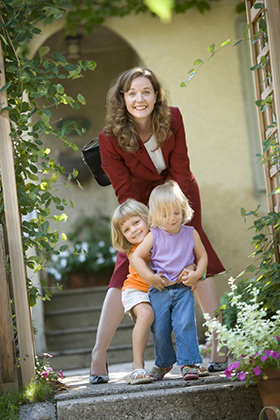 Between school, soccer practice, homework, piano lessons, play dates, and sleep, does your child ever have any down time? Better yet, do you? You may complain about your busy schedule, but you're responsible for it and your child may be the one suffering from it.
Overscheduled kids are a growing concern. Here are a few reasons why parents structure their kid's time, warning signs your child may be overscheduled, and tips for busy families.
What's Best for the Child
Parents usually have good intentions when they sign their children up for activities. They may want Bobby to excel in baseball, develop sportsmanship, make the best grades in math, learn self-discipline, be a good friend, develop musical skills, someday get a college scholarship, or just have fun.
Other parents don't want their kids to miss out on activities that other kids are participating in and try to keep up with the Joneses. Some parents work late hours and use extracurricular activities as a babysitter until they get off work. Still other parents fall into the trap of living vicariously through the lives of their children. Travel ball becomes their life, winning is their only goal, and lost dreams of the past get a second chance at becoming true.
You are worried about seeing him spend his early years in doing nothing. What! Is it nothing to be happy? Nothing to skip, play, and run around all day long? Never in his life will he be so busy again. - Jean-Jacques Rousseau, Emile, 1762
What's the Problem?
There's nothing wrong with enrichment activities for your kids. In fact, they're better than sitting around watching TV all day. The problem comes when there are too many activities, when kids have no down time to relax and be creative, or when parents over-scrutinize their kids' performance. These problems can lead to stressed out kids; a lack of quality family time; children and teens with low self-esteem; and an inability for kids to solve problems, regulate their emotions, make decisions, or be creative.

Are There Warning Signs?
It doesn't matter whether the parents' intentions are good or bad or whether the child enjoys the activities or not. Non-stop go, go, go will eventually catch up to the family. You can sense the negative side effects in a number of ways.
1. An overscheduled child may feel or look tired, be irritable and grumpy, or complain about headaches or stomachaches. What used to be enjoyable isn't anymore. Play dates and ice cream have lost their appeal.
2. The more lessons, practices, and activities your child participates in, the greater the chance that he or she won't excel or live up to the standard set by you or others. This can lead to low self-esteem, anxiety, or depression. A child or teen may become quiet, withdrawn, and moody.
3. When you can't read your child's mood, look at the child's grades. One of the clearest signs a child is overly busy is suffering grades.
4. Children who are used to having life being planned out for them will have trouble finding things to do when there is actually downtime. A rainy day or a cancelled appointment provides an opportunity to see if a child can be creative enough to occupy him or herself rather than coming to mommy wondering what to do.
5. A busy schedule takes a toll on family life and friendships. Family meals become a thing of the past, there's a lack of communication between spouses, and kids begin to take priority over the marriage. It's a clear sign your family is overscheduled when you're tired, your kids are stressed, and your marriage is suffering because of it.
Time to Slow Down
The good thing about an overscheduled child is that there are things you can do about it. It's as simple as eliminating things off your calendar, setting limits, and saying no. For your family, this might mean waiting until middle school to play sports, committing to only one extracurricular activity at a time, scheduling activities just two or three evenings out of the week, setting aside designated family time, making schoolwork a priority, and taking time to relax.
So, as the new school year begins, before signing your child up for every sport, lesson, and afterschool club available, you may want to think twice and ask yourself, "What's most important?" Then proceed accordingly.